In the context of the ACP-MEAs programme of UNEP, EEB/ZMWG released a call for proposal for NGOs to carry out work in Africa to reduce mercury in ASGM. Following the call for proposal two NGOs started a collaboration with EEB/ZMWG: Uganda National Association of Community Occupational Health (UNACOH) and Women on Mining and Extractives (WoME), based in Sierra Leone.
The project that UNACOH is running builds on a project ended in March 2022 funded from UNDP through the Small Grants Program (SGP)/GEF whose aim was to strengthen the capacities of stakeholders in the ASGM sector to effectively reduce utilization of mercury in Amudat District and Uganda generally. Two demonstration facilities for mercury free technology have been installed and several miners trained by a trainer from Tiira demonstration site, Busia district. With our project more district and sub county stakeholders have been reached and informed about the toxicity of mercury and trainers have been trained in those sites. We visited the project in September, we met Community Leaders and Mining associations, and we could see how these stakeholders are involved in the process of raising awareness and driving the change. During the visit we also took part in the demonstration organised by the Danish NOGO Dialogos at the Tiira site. We appreciated a good example of south-South Cooperation as two miners from Philippines came to train trainers and set up a group of specialised miners who can then teach other miners how to obtain good quality gold avoiding mercury and using small amount of borax. We ended the visit taking part into the Mining Occupational Safety and Health (MinOSH) International conference.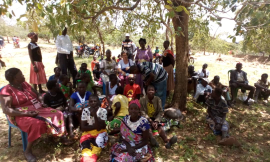 WoME, is working in the Sierra Leone's districts of Bo, Kono and Tonkolili. The organisation reached and trained 81 women miners on occupational health hazards of mercury use in artisanal mining and corresponding environmental hazards. Since approximately 60% of the participants could not read or write (in English), the training session mainly utilised innovative environmental awareness raising activities using life-scene, area-specific artisanal mining and environmental degradation photos and videos to increase their knowledge and awareness about the impacts of mercury use during artisanal mining on humans and the environment. The women miners trained by WoME demonstrated that they will be able to use the knowledge gained, together with the posters provided, to ensure that other female artisanal miners are informed, thereby creating and ensuring a multiplying effect of the information provided to them. WoME also took the opportunity to interview the participants about their economic empowerment, their role in the communities, their rights and their access to social services collecting in this way valuable information to better target the future work.